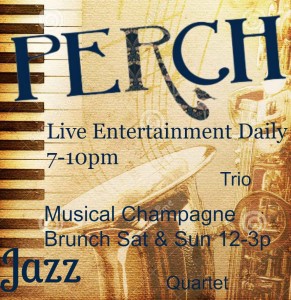 If you're flexible, then Perch has it all. The entertainment is jazzy but is usually pretty diverse so you want to look up the the entertainers and confirm it's your specific flavor but if you simply enjoy the purity of good live music and craftsmanship you won't be disappointed on any day. Featuring live entertainment 7 days a week makes it a go-to spot on many occasions. I give them major props on actually having and maintaining a thorough and updated event calendar.
The menu is the same, diverse but it's so diverse that no one will like the majority of if but everyone will like some of it. Personally, I haven't tried the brunch menu yet but I'll update you when I do.
Happy hour is only two hours from 4-6p but being downtown doesn't require much more than that.
The venue: Home run! The place is incredible. It looks great wherever you stand or sit. It boasts two rooftop balconies with great views from the 15th & 16th floors. Valet parking available but there's also a monitored and well lit parking lot directly across the street.