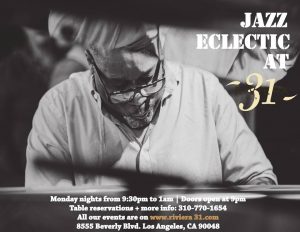 Mondays 9:30-1am  (doors 9p)
8555 Beverly Bl
Los Angeles, Ca. 90048
310-770-1654
This event has definitely withstood the test of time but it's no surprise because it has all the elements to succeed. The night  boasts a good mix of contemporary and classic jazz and usually features multiple artists. Depending on who shows up you may even be treated to some smooth R&B from time to time. My personal highlights of each evening is when the band jams without vocals. After many visits, I can personally assure you only the top and most established musicians are featured on this platform.
The audience is very diverse and the average age is approximately 40-55 as you would expect at the Riviera 31 @ The Sofitel Hotel. There's usually no cover charge and  they have a great menu available until late.
Though I've attended many times, I've had no negative experiences but if I had there always seems to be management readily available and present.